Meet the Zoe Grace Salon Team
All Zoe Grace Salon artists have been educated and mentored by Ella King, owner of Zoe Grace Salon. Each stylist has been handpicked and has an immeasurable understanding of the science of hair color formulation and hair cutting techniques. All of our stylists are committed to excellence and the understanding that our guests' wants and needs come first.
Elise
HAIR ARTISAN IN TRAINING
Elise's passion for design, makeup and style is contagious. Recently transferred from Paul Mitchell the School Lexington to Michaels College of Hair Design, Elise is becoming an expert in hair design and esthetics. Her hunger for knowledge is insatiable and her enthusiasm is invigorating. Her number one passion is makeup and making every one of her clients see themselves in a new light. She loves to "wow" her clientele and makes it look so easy. This loving and proud mother to her son, Finn, strives to be the best role model she can be. She loves fashion, keeping up with new trends, and will always keep your hair and makeup in style. Elise is also certified in eyelash extensions so ask her about that when you come in for your complementary consultation.
Jensen
HAIR ARTISAN
Jensen is a free-spirited hair artist that is able to showcase her talent in different hair genres such as formal styling and dreadlocks. Similar to what type of music she listens to and plays on her guitar, her hair knowledge is diverse and creative. She knows that your hair is a crown that you never take off but it's all about how you wear that crown. With the complimentary hair consultation that Zoe Grace Salon specializes in, Jensen will find your free-spirit that you may have hidden away. If you are intrigued by adding some blonde highlights to a trendy cut or finish out your service with a soft wavy style, Jensen will guide you towards your beauty destination.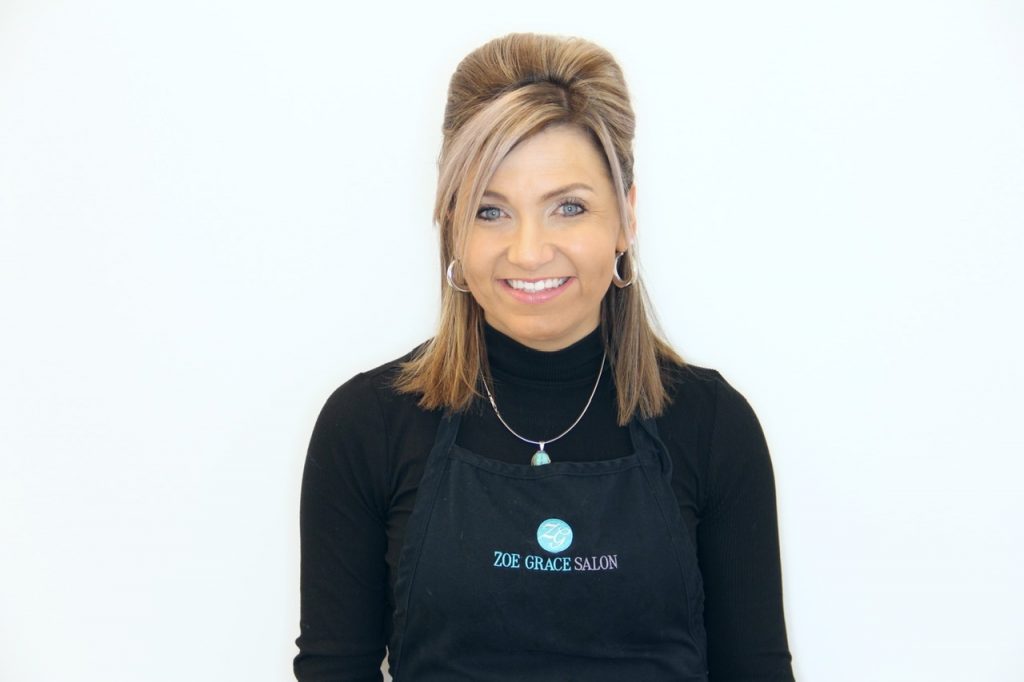 Laura
HAIR ARTISAN
Laura's positive energy, experience and expertise are just a few of the things you'll love about her. With a career in cosmetology that began over 12 years ago at Sableux Salon and Spa, Laura is meticulous at formulating and applying hair color as well as perfecting her eyelash extension technique. Laura is naturally driven to pamper and make over her clients, allowing their inner and outer beauty to radiate the room. Laura also loves to give men and women a good haircut, a new style, or a precise trim if that's what you want. Prepare to feel fabulous as she'll rock and refine your hair every single time. Laura joined Zoe Grace Salon after taking some time to have her beautiful daughter. We are so lucky to have Laura on our team. Whether you're looking for a new hair style, fresh new color, or a beautiful cut, Laura will help guide you to where you want to be. To learn more, schedule your complimentary consultation with Laura.
Ashely
HAIR ARTISAN
BIO Coming SOON
Rhonda
HAIR ARTISAN
Rhonda will be your tranquil moment for your Zoe Grace experience. Her soothing voice and kind heart will have you loving your hair before she even gets started. With over 10 years in the industry, specializing in the intricate work of eyebrow shaping, lash lifts and tinting, her fascination with the art and science of color formulation has kept her current with the latest hair trends and at the top of her game. Rhonda will take her time during your consultation and any other services you book with her, including the luxurious Zoe Grace scalp massage and shampoo service, ensuring that you receive exactly what you envisioned. Whether you're needing a new cut and style or a fresh dynamic hair color that Rhonda will customize for you, she will make sure that you step out of the salon with astonishing results. Book your personalized appointment with her today.
Tiffany
HAIR ARTISAN
Tiffany has been in the industry since 2015 and has a passion for making her clients feel amazing every time they leave her chair. She has a talent for makeup and loves to give her client that WOW experience.
Her quiet demeanor let's her work shine through as she focuses intently on her application for the guest she serves to bring out their absolute best! Tiffany is obsessed with keeping up on the newest trends and techniques for hair and make up in the beauty industry all so she can customize and update the look of the guests she serves.
Tiffany is also certified in Eyelash Extensions and has an eye for perfection in the application process.
Book your appointment with Tiffany and let her update your look!
Briana
HAIR ARTISAN
Bio Coming Soon
Ella
HAIR ARTISAN
Starting in her career of excellence since 2003, Ella is an expert in her field for hair color, Brazilian Blowout Smoothing Treatments and beaded Sew in Hand Tied and Machine Tied Weft Hair Extensions.
What is the best type of hair extensions? Which extensions last the longest? What are the most natural looking hair extensions? What are the healthiest hair extensions? All of your questions answered at Zoe Grace Salon NKY Cincinnati by your hair extensions expert, Ella King!
Fill out the Brazilian Blowout or Hair Extensions application today to see if you're the right fit to get hair that's easy to style and always looking it's best at Zoe Grace Salon with Ella King!